PODWW Uses SCREEN Truepress Jet520HD for 'Book of One' Production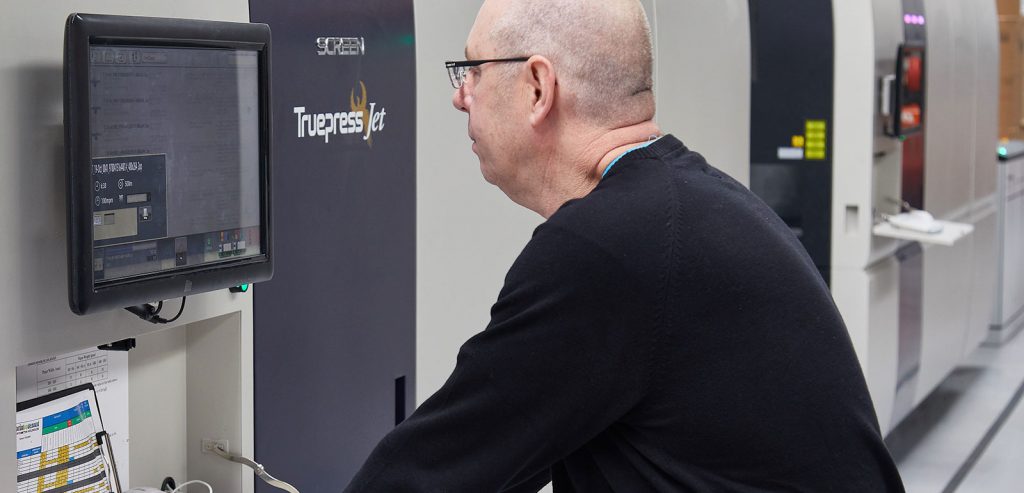 As part of its continual pursuit for highly automated, seamless book production, PrintOnDemand-Worldwide (PODWW) has gone live with a SCREEN Truepress Jet520HD press – the world's first inkjet printer using specially developed SC inks to print on standard litho coated paper without priming or coating treatment.
The Truepress Jet520HD press provides the consistent quality and flexible production that the Peterborough, United Kingdom-based, PrintOnDemand-Worldwide, requires to serve the trade, academic, STMs, journals, photo-book, training and self-publishing sectors.
"PrintOnDemand-Worldwide focuses on a 'book of one' approach. Shareholders want to hold content, not stock. Customers want books on-demand, they don't want to wait," explains PODWW Owner and Managing Director Andy Cork, "The 'book of one' is about producing books as they're needed instead of having warehouses full of stock which may or may not be bought, and incur cost and tie up much needed cash.
"The SCREEN Truepress Jet520HD press contributes to that vision with its consistent high quality and outstanding productivity. SCREEN is the industry's biggest secret! Whether it's a litho first-print or a POD reprint, there's minimal difference in quality. The speed and the impressive uptime of the press means we can produce in excess of 4000 books permitting us to deliver them same-day/next day depending on the product line."
The SCREEN Truepress Jet520HD is a high-definition inkjet web press with precision droplet size control and a true print resolution of 1200 x 1200 dpi, achieving the colors, textures, details and solid ink areas expected for high-end publication work. Running at speeds up to 150 meters per minute, the press is highly productive, requiring negligible downtime for maintenance.
Cork adds, "The SCREEN press is very user friendly. My rule of thumb when it comes to purchasing new technology is that if my grandma can't operate it, I don't buy it."
It took just three weeks to install the SCREEN Truepress Jet520HD and have it up and running. According to Cork, it was the SC inks and consistent quality without constantly cleaning heads that led to the investment: "As we drive our manufacturing facility towards being world class using Industry 4.0 methods, the SCREEN Trust software built into the SCREEN device truly supports our technological vision of 'connect, analyze and optimize' particularly in the area of predictive maintenance — a must with such demanding SLAs."
"The HD press combined with the SC inks was the turning point for us at PODWW to shift from a toner-first to an inkjet-first company. The ability to print directly onto offset coated paper, without the need for pre-treatment or expensive bonding agents means we can meet our customer's quality expectations while making a margin."
The 492-feet-per-minute SCREEN Truepress Jet520HD is equipped with SCREEN SC inks to maximize the already exceptional quality of the press. SC inks are compatible with a wide range of paper stocks including standard offset coated papers, without the need for pre-treatment.
Bui Burke, SCREEN Europe's Senior Vice President Sales said, "Printondemand-Worldwide is forging a new path when it comes to streamlined book production. We know SCREEN technology and workflow can support that vision, so we're delighted to see where they'll take it."