Bookvault.app powers the self publishing creative economy
We have just launched our new online self-publishing platform Bookvault at the London Book Fair and we were delighted to see the wealth of talent in self-publishing that dropped by to find out more about the new Bookvault.
Already well known from its previous iterations, the new Bookvault is not just a refresh. It is a completely revised and rebuilt online platform that handles everything from title management to order fulfilment and distribution. And as anyone who has worked with us before would know and expect – it delivers superb print quality and value for you as the self-publishing author or small business. That is aside from the international reach we provide through our global solutions and distribution network.
When we were designing our new platform, we listened to your feedback and suggestions for an easy-to-use but powerful platform.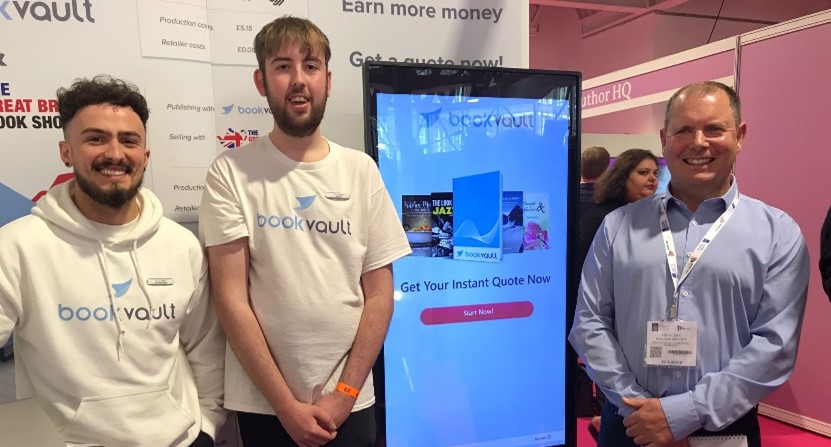 Now, through a self-registration process, as an author you have immediate access to a system from which to grow your sales, increase profits, print and fulfil orders.
At the fair, it was clear that our solution is popular. It sets us apart. We do not just allow you to upload and print your book using our on-demand facility – we publish it and help you distribute and sell through our network. That's the difference. With Bookvault you can publish, print and sell your books using our simple-to-use online portal and make more profit than selling with competitors like Amazon KDP or Ingram Spark. And yes, that is a fact.
The Bookvault platform is also ideal for the SME market, allowing small businesses to print on demand or print very small runs at low cost but at the same high standards and quality.
So what are you saying about Bookvault?
The following were comments from some of you that stopped to chat to us at the Fair.
"I like its clearly-laid out and easy-to-use dashboard. It gives me full central control on my publication. I have a great extensive choice available for publishing – and I like the tools to choose the paper, size and finishing. I can visualise what my book will be like." Maria, self-publishing children's author.
"I found the management of the process very easy. It is a self-explanatory. I can manage my library of titles and get live status updates on book titles on sale." Jonathan, author, fiction.
"As a small business I love the dashboard and the reporting structure. It is also now part of our systems with seamless integration. I have control on what is happening to our titles. Priceless!" Tom, MD, education, training and development.
"It works out much better in the long run.  I make more profit and I am selling through the Great British Book Shop and also on other online retailers. When I compared Bookvault to other platforms, I could see the differences and the benefits. Glad I switched!" Donna, author, crime fiction. 
As Curtis Roberts-Argrave, our Bookvault Business Development Manager, said on the stand, "Bookvault is so flexible and so easy to use, it has changed the landscape for authors. We print inhouse, cutting out extra costs and processes. The print is of the highest quality available and is still sustainable print! We encourage you as an author to reduce the impact on the environment by offsetting the carbon of the books and also promoting sustainable reading."
Call us to help you get ready to print on 01733 237867  or email info@Bookvault.app.